MYBOS RETAIL BILLING
Integrated Point of Sales, Inventory and Accounting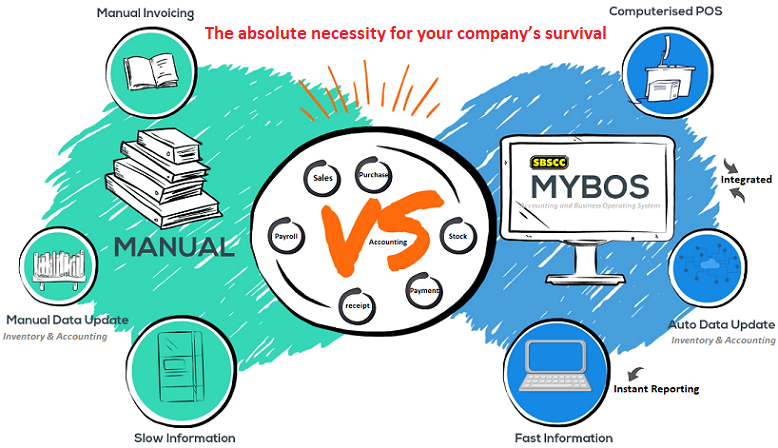 Streamline Your Business
Our affordable and unique total solution will help you to streamline your business and efficiencies can be gained in a variety of places throughout your business. With our unique total solution following areas in your business will be streamlined.
First of its kind software package for small business
The right billing, inventory and integrated accounting can provide major time saving benefits and it is the absolute necessity for your company's survival. Free up your human resources for more profitable tasks by automating your billing system. Choosing the appropriate software for your business can even help you eliminate time consuming manual processes.
No matter what size your company is, you need to accurately invoice and manage inventory to maximize your profitability and reduce overhead expenses. SBSCC MYBOS POS Add-on software takes the guesswork out of keeping proper billing, inventory and accounting. It also allows you to efficiently gather key information needed to make informed and insightful decisions.
SBSCC MYBOS RETAIL POS add-on module is fully integrated software specifically designed for small business owners to manage their billing, inventory and accounting more efficiently. Now small business owners can take absolute control of their billing, inventory/stock, purchases, returns and accounting.
Integrated total unique solution
Being the only one of its kind; unlike anything else! Do all your master file creations such as customers, inventory, tax, etc in the MYBOS accounting software and it sync between accounting and retail billing system. You only need to invoice/print receipts for your customers from the MYBOS Retail Billing add-on.

Simply saying you allow your sales staffs to do only invoicing, printing and receive payment from MYBOS Retail Billing add-on. All other work such as inventory management, purchases, sales pricing, reporting, etc will be done in integrated MYBOS ACCOUNTING.
MYBOS Retail Billing Add-on will be installed on your local computer and can be integrated with both MYBOS Accounting editions.
Features